Taxi Transfers To and From Paphos Airport
Find Unbeatable Value Taxi Transfers


Paphos Airport Taxis - Fares, Distances and Where to Find Them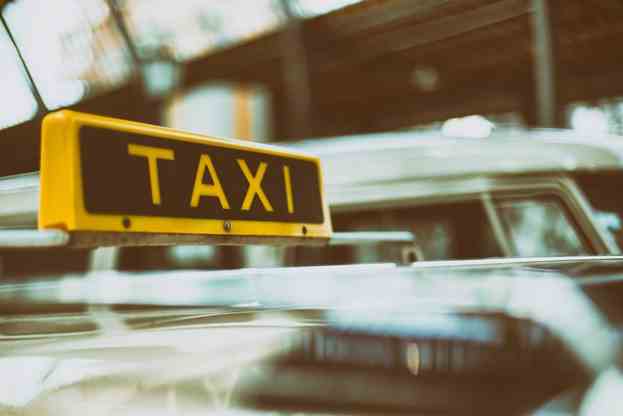 Paphos Airport is the second largest airport in Cyprus, and is recognised by its IATA code of PFO. It is managed by the same company that is responsible for the larger airport of Larnaca International, Hermes Airports Ltd, and is owned by the Republic of Cyprus. The airport is located approximately 6.5 km, or 4 miles from the city of Paphos, and was declared as the fiftieth base (hub) for the airline company Ryanair, in 2012. Paphos International Airport taxis are a very convenient way to travel into the city, or to a departure flight from the city. Although they are more expensive than public bus services, taxis are quicker, and will take you directly to your destination.
Over 1.6 million travelers make their way through this airport's single terminal building every year. They have access to a number of facilities, as well several options for ground transportation. The terminal of the airport was also recently renovated, and is therefore modern with efficient services. The new terminal has 28 check-in desks, 7 airline gates and three conveyor belts for luggage items. All passenger facilities are within easy walking distance of one another, therefore there are no people movers or shuttle buses for the transport of passengers on the airport grounds. If a passenger has decided to travel by taxi, they should collect their luggage items and move outside of the terminal to the taxi ranks to find a vehicle and driver.
A reservation is usually unnecessary for taxi services, as plenty are available from outside of the airport's terminal building, however, passengers are welcome to call ahead and ensure that a service will be waiting for them at their time of arrival. A number of specially equipped vehicles with wheelchair lifts are often available as well, but these cars are best reserved in advance, to ensure their availability, otherwise there may be quite a wait while one is sent to the airport. The airport building is completely accessible to disabled travelers. There are suitable restroom facilities, pavement ramps and lowered counters for check-in purposes and in shops and restaurants etc. Travelers may also hire a wheelchair or power scooter to assist with their mobility within the terminal. Further details are available from any of the information desks.
Passengers at Paphos International Airport are advised not to accept transport from anyone who loiters in the arrival areas. Any individual found trying to persuade a passenger to his/her transport services should also be reported to security officials. Taxi drivers who are permitted to collect passengers from the airport will always be found waiting by their vehicles in the taxi rank. Their quality of service has been approved by airport authorities and by the Department of Road Transport, who oversees all taxi operations within the city and ensures that taxi passengers are offered a consistently high quality of service. All vehicles used should be clean and in a good condition. They should also be properly licensed. The drivers who operate the vehicles should be neatly and appropriately dressed, should be knowledgeable regarding the taxi fare charges and should take their passenger directly to their desired destination. The driver should use the shortest route possible. A taxi driver may also not usually refuse any trip requested, even if it is only a short one.
The Paphos International Airport taxis are required to be equipped with a meter. This is the device that records the length of the journey, and the taxi fare is then calculated accordingly. A passenger should ensure that the meter is clearly visible, and that it is turned on and in working condition. Another vehicle should rather be used if your taxi does not have a working meter device. The overall charge for the trip will depend on the length of the journey, as determined by the meter, and could also include several small additional charges, such as those for luggage loaded and for waiting time per hour. An initial charge of €3.42 will also be applicable.
Taxi rates are more expensive if the vehicle is used on a public holiday, or if the trip is taken during the night and early morning, between the hours of 20:30 and 06:00. In addition, taxis carrying five passengers will be 20% more expensive, and those carrying six passengers will be 40% more expensive. Passengers are entitled to a receipt for their payment that shows details of the date of the journey, as well as the registration number of the taxi and the driver's name. If any complaints need to be addressed, the passenger should contact the Department of Road Transport at 22807000 between 08:00 and 14:00, Monday to Friday.
Here are a few popular destinations requested by taxis, and their approximate fares: Paphos City Center – 15.00, Larnaca City Center – 96.00, Nicosia City Center – 106.00, Lefkara – 80.00, Limassol City Center – 47.00. Agia Napa City Centre – 126.00, Larnaca Airport – 95.00, Polis – 43.00, Paphos Coral Beach Area – 25.00, Protaras – 133.00 and Troodos – 56.00. These are estimated prices when taxis are taken during day-time tariff hours, and for a vehicle with less than five passengers.
Further details regarding Paphos International Airport taxis are available from the airport, or passengers on departure flights can call a taxi company for information regarding transport to the airport. Paphos International Airport limousines may also be provided by several private companies if a more elegant form of transport is required.
Taxi fares to & from Paphos Airport (PFO)
| Book | Origin / Destination | Duration (Mins) | Distance | Up to 3 passengers | Up to 4 passengers | Up to 6 passengers | Up to 7 passengers | Up to 10 passengers | Up to 13 passengers | Up to 16 passengers | Up to 19 passengers |
| --- | --- | --- | --- | --- | --- | --- | --- | --- | --- | --- | --- |
| Book | Paphos | 30 | 19 KM | €42 | €42 | €134 | €66 | €84 | €147 | €136 | €156 |
| Book | Limassol | 65 | 80 KM | €85 | €85 | €116 | €111 | €182 | €186 | €219 | €254 |
| Book | Coral Bay | 45 | 30 KM | €60 | €60 | €125 | €84 | €132 | €155 | €174 | €220 |
| Book | Ayia Napa | 120 | 170 KM | €186 | €186 | €206 | €205 | €228 | €286 | €299 | €388 |
| Book | Chloraka | 30 | 23 KM | €54 | €54 | €125 | €78 | €108 | €155 | €144 | €192 |
| Book | Peyia | 45 | 34 KM | €56 | €56 | €94 | €84 | €132 | €108 | €174 | €220 |
| Book | Yeroskipou | 20 | 12 KM | €47 | €47 | €108 | €84 | €84 | €136 | €137 | €137 |
| Book | Pissouri | 35 | 28 KM | €63 | €63 | €93 | €84 | €132 | €124 | €174 | €220 |
| Book | Protaras | 130 | 180 KM | €182 | €182 | €303 | €195 | €240 | €320 | €312 | €351 |
| Book | Kissonerga | 40 | 27 KM | €71 | €71 | €110 | €137 | €165 | €147 | €222 | €222 |
| Book | Latchi | 60 | 54 KM | €71 | €71 | €140 | €110 | €110 | €202 | €188 | €188 |
| Book | Polis | 60 | 51 KM | €81 | €81 | €102 | €117 | €130 | €219 | €210 | €264 |
| Book | Larnaca | 95 | 126 KM | €151 | €151 | €177 | €182 | €198 | €237 | €234 | €286 |
| Book | Pomos | 80 | 70 KM | €116 | €116 | €271 | €185 | €223 | €297 | €299 | €331 |
| Book | Aphrodite Hills | 20 | 16 KM | €54 | €54 | €94 | €78 | €132 | €108 | €144 | €192 |
| Book | Parekklisia | 60 | 78 KM | €101 | €99 | €263 | €156 | €162 | €229 | €245 | €270 |
| Book | Larnaca Airport | 90 | 124 KM | €141 | €140 | €186 | €169 | €190 | €203 | €246 | €314 |
| Book | Agios Tychonas | 60 | 70 KM | €98 | €101 | €141 | €141 | €159 | €193 | €305 | €338 |
| Book | Mandria Paphos | 15 | 8 KM | - | €48 | - | - | - | - | - | - |
| Book | Germasogeia | 50 | 66 KM | €101 | €101 | €203 | €141 | €153 | €219 | €219 | €219 |
| Book | Larnaca Bay | 100 | 141 KM | €156 | €156 | €254 | €182 | €229 | €246 | €260 | €303 |
| Book | Konia | 20 | 15 KM | - | €45 | - | - | - | - | - | - |
| Book | Tala Paphos | 30 | 25 KM | €80 | €85 | €145 | €136 | €147 | €153 | €169 | €169 |
| Book | Droushia | 60 | 44 KM | €62 | €62 | €90 | €82 | €85 | €143 | €138 | €151 |
| Book | Episkopi | 40 | 46 KM | €78 | €77 | €140 | €128 | €153 | €237 | €207 | €207 |
| Book | Erimi Village | 45 | 49 KM | €63 | €63 | €93 | €93 | €101 | - | €162 | €162 |
| Book | Argaka | 70 | 59 KM | €78 | €78 | €122 | €122 | €125 | €188 | €196 | €196 |
| Book | Platres | 60 | 62 KM | €107 | €107 | €288 | €175 | €210 | €305 | €283 | €338 |
| Book | Neo Chorio | 120 | 70 KM | €116 | €118 | €250 | €250 | €250 | €258 | €274 | €274 |
| Book | Lefkara | 90 | 106 KM | €130 | €130 | €254 | €184 | €176 | €254 | €245 | €270 |
| Book | Oroklini | 100 | 140 KM | €138 | €137 | €271 | €186 | €176 | €288 | €275 | €303 |
| Book | Pernera | 120 | 176 KM | €199 | €203 | €314 | €257 | €253 | €305 | €366 | €405 |
| Book | Kouklia | 15 | 15 KM | €42 | €42 | €83 | €78 | €96 | - | €132 | €132 |
| Book | Tremithousa | 25 | 21 KM | - | €45 | - | - | - | - | - | - |
| Book | Stroumpi | 40 | 35 KM | €87 | €56 | €110 | €141 | €172 | €180 | €188 | €196 |
| Book | Miliou | 45 | 39 KM | €80 | €84 | €169 | €145 | €153 | €162 | €164 | €168 |
| Book | Moni Agion Anargyron | 50 | 40 KM | €66 | €66 | €119 | €119 | €167 | €191 | €218 | €218 |
| Book | Kathikas | 55 | 42 KM | €58 | €58 | €102 | €84 | €87 | €196 | €141 | €188 |
| Book | Ypsonas | 50 | 55 KM | €89 | €71 | €125 | €141 | €212 | €219 | €227 | €234 |
| Book | Arsos | 55 | 55 KM | €94 | €102 | €219 | €203 | €227 | €234 | €243 | €250 |
| Book | Kato Polemidia | 50 | 58 KM | €90 | €94 | €219 | €203 | €219 | €227 | €234 | €250 |
| Book | Limassol Port | 50 | 61 KM | €93 | €91 | €203 | €147 | €153 | €203 | €199 | €219 |
| Book | Agia Marina Chrysochous | 70 | 65 KM | €102 | €102 | €167 | €167 | €200 | €233 | €270 | €270 |
| Book | Cedar Valley | 100 | 65 KM | €99 | €106 | €219 | €203 | €227 | €234 | €243 | €250 |
| Book | Troodos | 80 | 71 KM | €98 | €98 | €266 | €150 | €165 | €225 | €227 | €227 |
| Book | Pyrgos | 110 | 76 KM | €102 | €106 | €212 | €153 | €237 | €246 | €270 | €270 |
| Book | Moutoullas | 85 | 85 KM | €137 | €141 | €250 | €203 | €250 | €258 | €266 | €274 |
| Book | Tochni | 70 | 90 KM | €116 | €116 | €280 | €153 | €162 | €280 | €245 | €270 |
| Book | Strovolos | 125 | 126 KM | €254 | €271 | €305 | €305 | €305 | €322 | €389 | €406 |
| Book | Pyla | 105 | 139 KM | €138 | €138 | €238 | €176 | €176 | €271 | €275 | €303 |
| Book | Limnitis | 160 | 140 KM | €207 | €208 | €312 | €266 | €274 | €290 | €297 | €312 |
| Book | Nicosia Southern part | 105 | 142 KM | €176 | €176 | €238 | €189 | €221 | €271 | €260 | €388 |
| Book | Ayios Dhometios | 135 | 144 KM | €219 | €243 | €375 | €297 | €312 | €328 | €344 | €359 |
| Book | Ayia Thekla | 120 | 165 KM | €184 | €182 | €294 | €238 | €245 | €286 | €351 | €388 |
| Book | Girne | 135 | 169 KM | €203 | €203 | €390 | €234 | €274 | €359 | €399 | €399 |
| Book | Paralimni | 120 | 172 KM | €199 | €203 | €338 | €257 | €253 | €305 | €366 | €405 |
| Book | Ercan Airport | 165 | 176 KM | €203 | €202 | €437 | €212 | €281 | €352 | €414 | €414 |
| Book | Famagusta | 140 | 178 KM | €223 | €223 | €389 | €284 | €275 | €423 | €405 | €446 |
| Book | Yeni Bogazici | 160 | 180 KM | €297 | €297 | €423 | €372 | €376 | €376 | €491 | €491 |
| Book | Karsiyaka | 160 | 181 KM | €234 | €234 | €390 | €300 | €290 | €375 | €422 | €422 |
| Book | Lapta | 150 | 183 KM | €234 | €234 | €468 | €300 | €290 | €352 | €422 | €422 |
| Book | Gaziveren | 150 | 189 KM | €250 | €250 | €437 | €309 | €297 | €399 | €430 | €430 |
| Book | Bogaz | 160 | 200 KM | €219 | €219 | €468 | €250 | €297 | €390 | €430 | €430 |
| Book | Lefke | 190 | 204 KM | €258 | €258 | €468 | €318 | €305 | €368 | €437 | €437 |
| Book | Salamis Bay | 180 | 215 KM | €229 | €229 | €372 | €372 | €344 | €376 | €450 | €491 |
| Book | Deryneia | 180 | 230 KM | €312 | €191 | €406 | €328 | €344 | €375 | €390 | €406 |
Taxi Transfer Customer Reviews
Available Transfer Options