Paphos Airport Departures (PFO)
Not all flights may be showing. If not available use search above to find your flight by airline, airport or flight number.
Destination
Airline
Flight no.
Scheduled
Est./Actual
Status
Chania (CHQ)
Ryanair
FR5084
07:25
Scheduled
London (LGW)
easyJet
U28652
08:20
Scheduled
London (STN)
Ryanair
FR3134
08:25
Scheduled
Vienna (VIE)
Lauda Europe
FR722
08:50
Scheduled
Bristol (BRS)
easyJet
U22902
09:05
Scheduled
Bordeaux (BOD)
Ryanair
FR1773
09:30
Scheduled
Budapest (BUD)
Ryanair
FR3331
10:00
Scheduled
No flight departures were found at Paphos Airport.
Flight Departures at Paphos Airport
Paphos International Airport is found in the country of Cyprus, and handles approximately 1.6 million passengers per annum. It is the second-busiest airport in the country, with a few million passengers short of Larnaca International Airport, and is known by its IATA code of PFO. The airport is served by several airline companies, many of which offer seasonal flights, and is a hub for Ryanair, a very popular airline carrier at many airports in Europe. The Paphos International Airport departure area is modern and efficient, as the entire terminal building was recently renovated. Passengers can drive their own vehicle to the airport, and make use of the parking areas available, or they can use public transport to reach a departure flight.
The island of Cyprus is located to the west of Lebanon, and to the south of Adana, Mersin and Antalya in Turkey. Besides Larnaca, Nicosia and Limassol, Paphos is one of the main cities on the island, and is found on the south-western coast. The airport is therefore convenient for most people in the western side of the country. It is also the only international airport besides Larnaca International, which is found more to the eastern side of Cyprus. The airport of Paphos lies approximately 6.5 km, or 4 miles from the city, and is nearby to Timi, Mandria, Anarita and Acheleia.
Travelling to the airport from central Paphos should take no longer than fifteen to twenty minutes, however, the main access roads of the airport can be congested at times, therefore, especially during rush hour traffic, passengers should leave quite early for their departure flight. The B6 and the A6 are the two larger roads that lead in the direction of the airport. Motorists will then connect to the E603 secondary road that heads for the airport's parking lot and terminal building. If travelling on the A6, a connection will first be required to the B6 motorway. Once at the airport, vehicles can be parked for any number of days in the parking lot outside of the terminal building. The rates charged are reasonable, and there are reserved spaces for disabled drivers. Motorists may also drop off departing passengers at the curb-side of the terminal.
Alternatively, public buses run to the airport approximately every sixty minutes during certain hours of the day. They can be taken from Paphos Harbour or from various stops in the city center. These buses are Routes 612 and 613, and are the cheapest form of transport to the airport. Taxis are also available, however, there are no train services to the airport or on the island of Cyprus.
The single terminal building of Paphos International Airport has a section for departures and a section for arrivals. Several shops and restaurants are available for the convenience of passengers, and there is a duty-free store past the security gates. A bank can also be found in the building, as well as a CIP lounge, a baby changing room, first aid services, a tourist help desk and car rental counters. The terminal is generally very easy to navigate, and all facilities are within walking distance of one another. Since its renovations, the airport has 28 check-in desks, 17 remote stands for aircraft carriers, 4 security screening positions, 3 ticketing counters and 3 conveyor belts for luggage collection.
The terminal building is completely accessible to disabled travelers. There is a special parking space reserved for dropping off a disabled passenger right outside the terminal, and very nearby to the intercom from where assistance can be called. Accessible restrooms are available, and pavement ramps are located in convenient areas. Passengers may also hire wheelchairs and power scooters.
At most airports in the world nowadays there are several ways to check-in for a departure flight, however, the options for check-in often depend on the airline company in use as well. There are always conventional check-in counters available, that open a certain time before a flight is scheduled to depart, and there may also be self-service check-in kiosks that can be used for a number of airline companies. Certain carriers may allow their passengers to check-in online before they leave for the airport. It is recommended to arrive at the airport at least an hour to an hour and a half before a domestic flight, and at least two to three hours before an international flight. Passengers with special needs, persons travelling with infants or unaccompanied minors should arrive even earlier. Always inform your airline company of any special requirements.
Ryanair has recently become the main airline carrier at Paphos International Airport, offering over eighty flights per week. This company declared Paphos Airport as their fiftieth base in 2012. Throughout the year, Ryanair flights depart for Chania, London, Milan and Thessaloniki, while their seasonal flights take passengers to Budapest, Frankfurt, Kaunas, Krakow, Oslo, Pisa, Rome, Stockholm, Venice and Patras/Araxos. Thomas Cook Airlines and Thomson Airways have a large number of seasonal flights as well, while EasyJet has permanent flights to Bristol, Edinburgh, London and Manchester. Airline carriers at Paphos Airport also include British Airways, Bulgaria Air, Cyprus Airways, Enter Air, Germania, German Sky Airlines, Jet2, Jetairfly, Jet Time, Primera Air, Transavia, Ural Airlines and Transaero.
Passengers can find out more information regarding Paphos International Airport departures by calling the airport contact numbers – 77778833 from towns in Cyprus or +357-26007100 from international locations. Live departure schedules are available online as well.
Was your flight delayed or cancelled?
You may be eligible to receive up to 600 EUR compensation per person in your party..
Claim Now!
Beat the Queues
Don't stand sweating for 45 mins waiting for Security. Get a fast track and get through in 5 mins or less.
Book now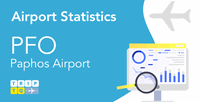 Paphos Airport's Q3 2023 Passenger Numbers Soared 8.62%, Exceeding Pre-Pandemic Levels